Shoutout to Coach Christopher I. Barley for sharing his experience of getting the SFG1 Certification. We hope this inspires you and helps you to make the decision to pick up the challenge and get StrongFirst Certified for yourself!
Introduction
I've always enjoyed competing and finding challenges that push me to my absolute physical limits. Back in 2017 when I first heard of the SFG Level 1 certification from Myren (Strongfirst Singapore Team Leader), I couldn't fathom attending the course, much less even think of completing it.
I was struggling to complete 5 repetitions of the 1 Arm Press with a 16 kg bell. One of the skill test requirements is doing 5 reps of the 1 Arm Press with a 24 kg bell. On top of that, SFG 1 has gained notoriety for having a high failure rate. A 25-30% failure rate is typical. Participants who do not prepare well are likely to fail this certification. This is one of the few certifications where you have to earn your certification with blood, sweat, and possibly tears.
The Level 1 certification entails 3 days of training and practice for the various kettlebell techniques. On the final day of the certification, participants are tested on various skills requirements and a snatch test.
In this article, I'll like to share my 3 biggest takeaways during the SFG weekend.
Push your limits
There were many team practices that challenged my mental fortitude as the volume and intensity of the drills were high and pretty taxing for my body. On the last day of the certification, I remember the soreness I felt in my lower back over the thousands of loaded hinge movements that had accumulated over the 2 previous days. I started laughing with the other participants as we had a snatch test awaiting us shortly and thinking of how we were going to complete it. When there's nothing left in the tank, are you able to push through your limits?
I definitely felt challenged!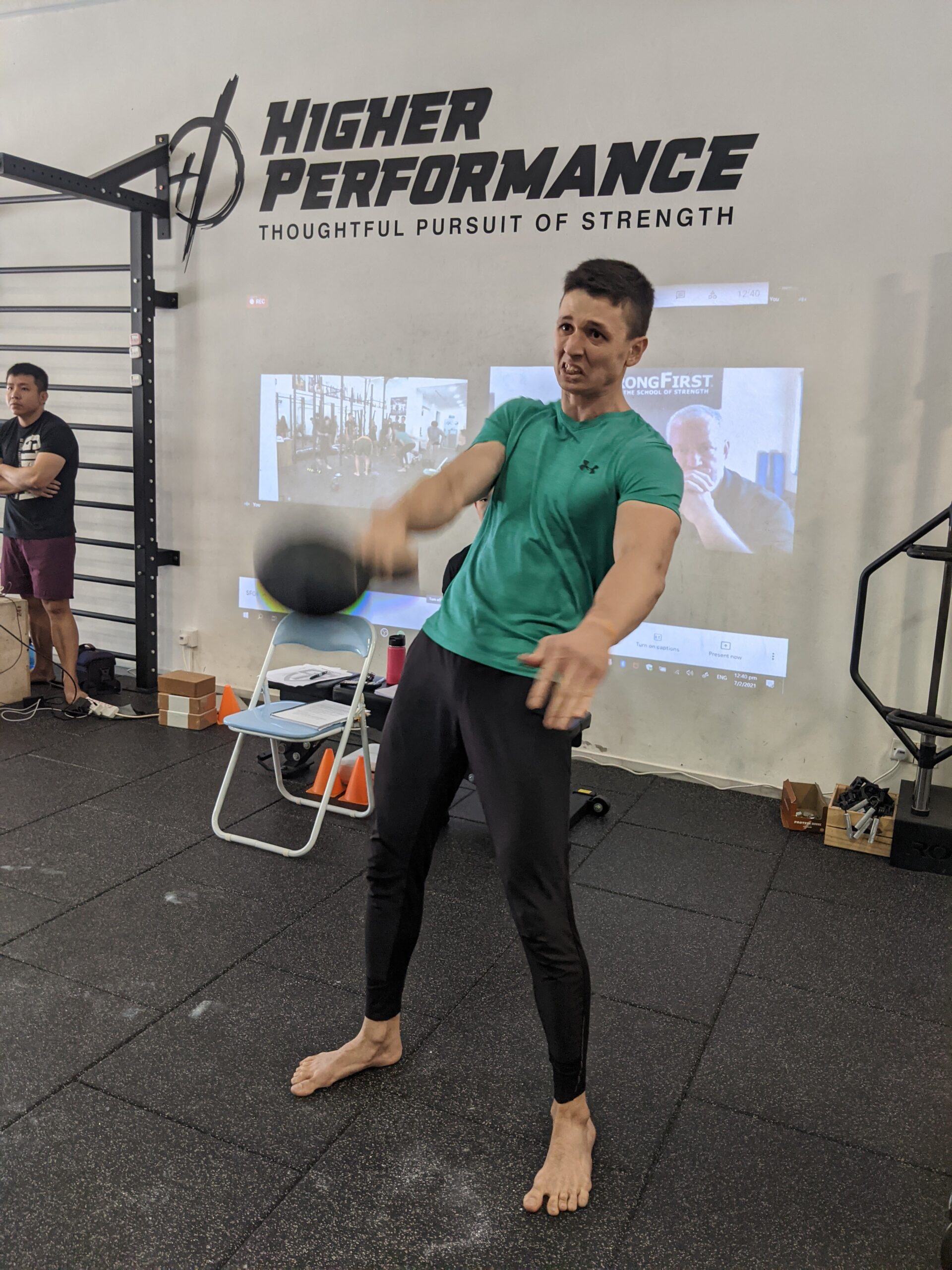 Coaching mastery from instructors
I was particularly impressed by the precise coaching cue which was given to me when executing my Turkish get-up. When doing the roll up to the elbow, I was told to keep my opposite butt on the floor. This targeted solution allowed me to execute the getup safely and efficiently.
For any exercise that wasn't done well, there was an appropriate exercise correction to address the exact issue in the movement. For example, during the KB Swing, when someone leans back, one corrective drill is to have the coach place their hand 2 inches away from the back of the client. If the client were to hit their back on the hands, this indicates they are leaning back.
There is a system to address the root problem for each of the movements. This is a cheat sheet that coaches can refer to. Ultimately, this reduces frustration, saves time for the coach and client, and allows the coach to demonstrate coaching competency to the client which increases buy-in.
Humility
These 3 days of intense practice, team practice and snatch test at the end made me realise there is much more to improve. StrongFirst as an organization has definitely set the standard for some of the strength movements, for example 1 Arm Press, Turkish Getup, etc.
Also, it's inspiring to see the instructors coaching with precision, just making one subtle correction at a time. In a short few minutes, you can see a drastic improvement in the participant's technique.
This is definitely a once in a lifetime experience and if you want to push your limits, this would be the perfect challenge. My only advice is to over-prepare and expect to be challenged for this certification.