This year, we had the honour of hosting our first-ever Strength Games at Higher Performance. This event served as a testament to the incredible spirit and physicality of our members, with many participating for the first time. We were truly inspired by their transformative journeys, witnessing them evolve from beginners to athletes, showcasing not only their physical prowess but also their unwavering mental fortitude. We are thrilled to share some of the remarkable stories that emerged from the games, hoping to inspire you on your own physical journey as well.
ASHISH
MAKING THE IMPOSSIBLE A REALITY
Ashish embarked on his kettlebell journey with the sole purpose of learning the craft. However, he faced challenges due to poor overhead and hamstring mobility, as well as being unconditioned for rigorous training. Inability to perform movements like push-ups or pull-ups made bigger compound exercises like deadlifts seem unattainable. Undeterred, he embraced the work ahead. With unwavering determination, he committed to training four times a week, complemented by mobility classes, to pursue his goal. We take great pride in sharing his incredible achievements from the games: a 130kg Deadlift and 16 Pull-Ups! From the days when raising his arms overhead seemed impossible, this is a truly astounding accomplishment.
CHOON YAN
STRENGTH UNLEASHED
Former powerlifter Choon Yan set his sights on 215 kg deadlift in the latest edition of the Strength Games. After falling short of this achievement in the past, he was ready to try a program with lower training volume, curious to see the outcome. In fact, he often expressed his surprise at how "easy" his training felt on certain days. This marked a shift from his previous approach of heavily focusing on the volume of the big lifts, peppered with accessories. Despite facing challenges such as a long commute from the west and family commitments, Choon Yan remained steadfast in pursuing his goals. In the end, his unwavering dedication paid off as he triumphantly hit his initial target of 215 kg, highlighting the importance of consistency in achieving one's aspirations.
EDNA
TAKING A CHANCE ON HERSELF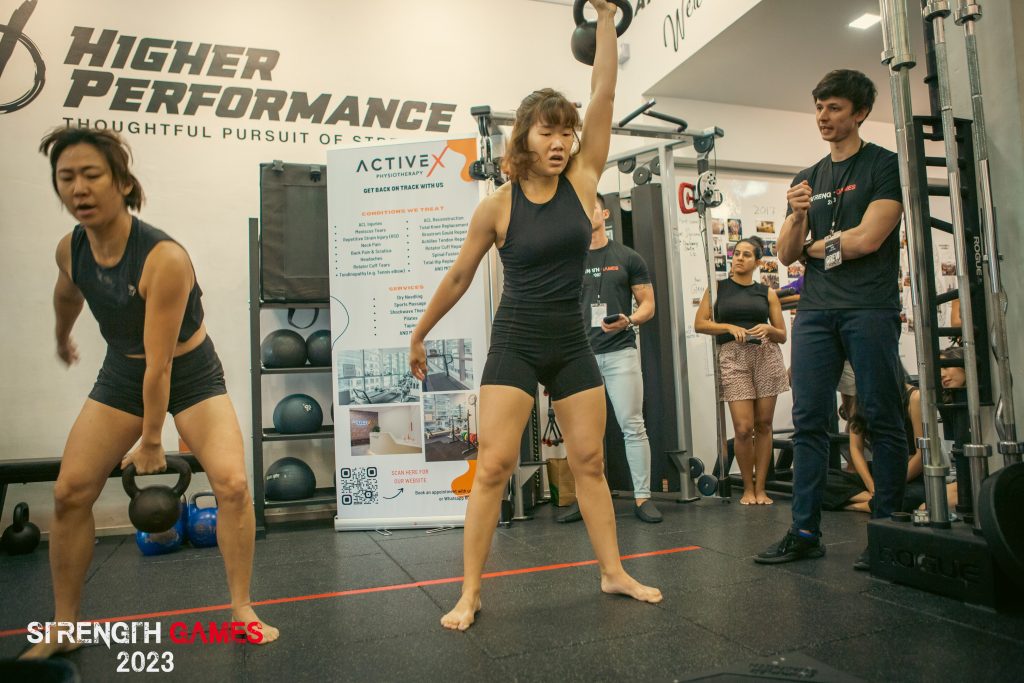 Edna drew her inspiration to join the Games from the Higher Performance community's united pursuit of a shared goal. Embracing the spirit of competition, she welcomed the challenge with open arms, even though it was a new and unfamiliar experience for her. Despite initial worries about her abilities, Edna's fitness journey was marked by significant milestones, showcasing her ability and tenacity every step of the way. These small victories played a crucial role in fortifying her mental strength as she prepared for the demanding road ahead. Along the way, she faced setbacks like gastroenteritis and other physical ailments, but her determination and positive mindset became her greatest assets. Thanks to her unwavering spirit, Edna conquered the obstacles and triumphantly displayed her abilities at the Games, proving that success is achievable with perseverance and a can-do attitude!
TEO
THE UNEXPECTED WIN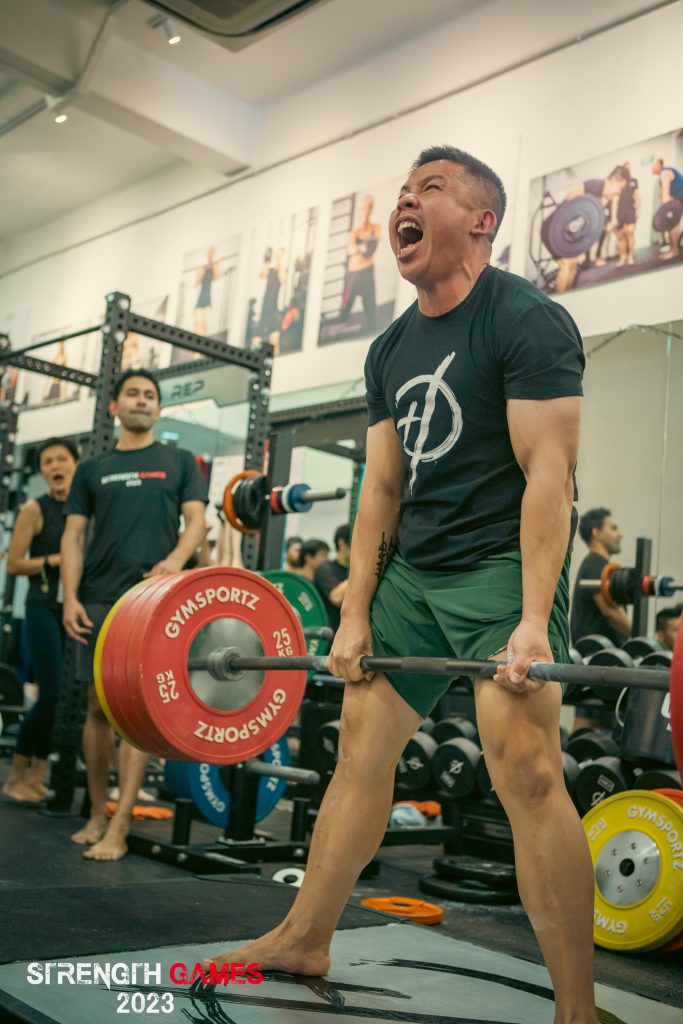 Teo embarked on his journey at Higher Performance fueled by a deep interest in training and programming, eager to chase impressive numbers for his lifts. However, a previous injury had instilled fear that held him back from pushing himself to his full potential. After years of dedicated re-training and conditioning, Teo gradually built up his strength and confidence, eventually participating in various challenges alongside the Higher Performance community. In this edition of the Strength Games, curiosity propelled Teo to sign up and test his limits. His training focused on inching closer to a 200kg deadlift from his previous record of 185kg. Teo was pleasantly surprised at his results, celebrating the crossing of this significant milestone, adding yet another outstanding achievement to his list of accomplishments.
MIN CHING
POWERING PAST INJURY
Min Ching initiated her preparation for the Tactical Strength Challenge back in 2022, but an unexpected fall on the day of the event forced her to sit out on her snatches. Despite the disappointment, this setback became a catalyst for her determination to participate and excel in the Strength Games. Prioritising pain management for her lower back, Min Ching made it her primary focus before even venturing into competition mode. With newfound motivation, her commitment to rehabilitation paid off. Through patience and unwavering focus, she built a stronger foundation of fundamentals, surpassing expectations with impressive results. Achieving personal bests in both pull-ups and her 100kg deadlift, her performance at the games showcased an impressive and inspiring comeback.
ZY
THE SWEET TASTE OF VICTORY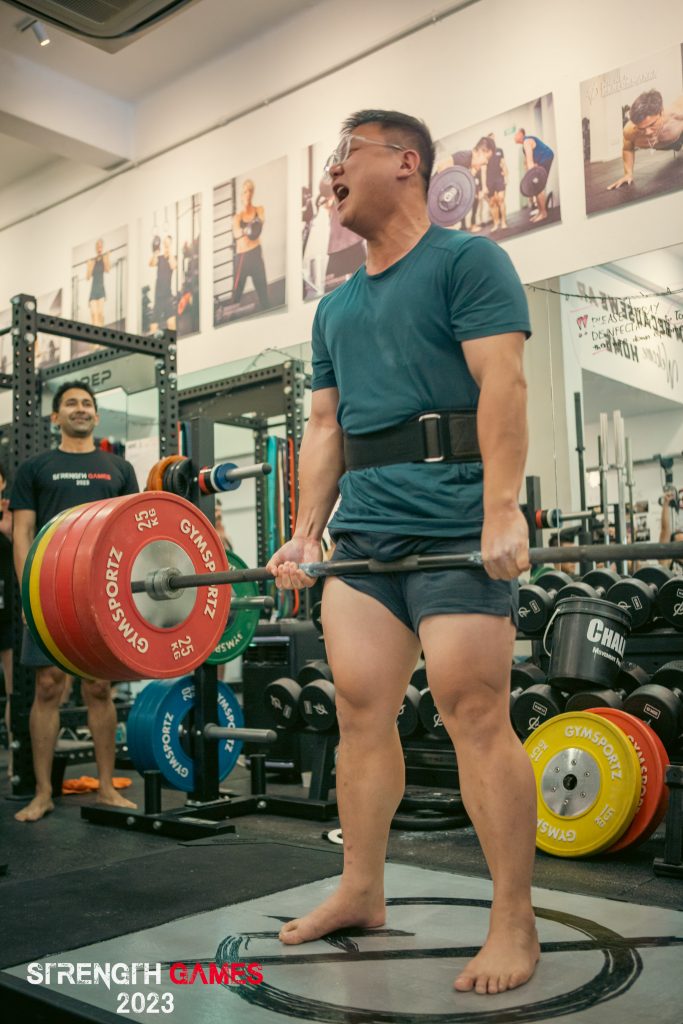 ZY is a seasoned competitor who has participated in five previous iterations of the Tactical Strength Challenge. This time around, he had his eyes set on victory. As a devoted father of two, balancing training alongside his work and family responsibilities posed significant challenges during his preparation. Moreover, dealing with lower back spasms from a previous competition added further obstacles in the early stages of training. To address this, ZY and his coach took a different approach, placing emphasis on mobility and overall core strength to establish a solid foundation for maintaining his lower back health. This shift in gear definitely paid off. With an exceptional result of 134 snatches and a 220kg deadlift, ZY achieved his goal and proudly concluded this chapter of his physical journey with his head held high.
ALYSSA
STEPPING UP TO A DIFFERENT BAR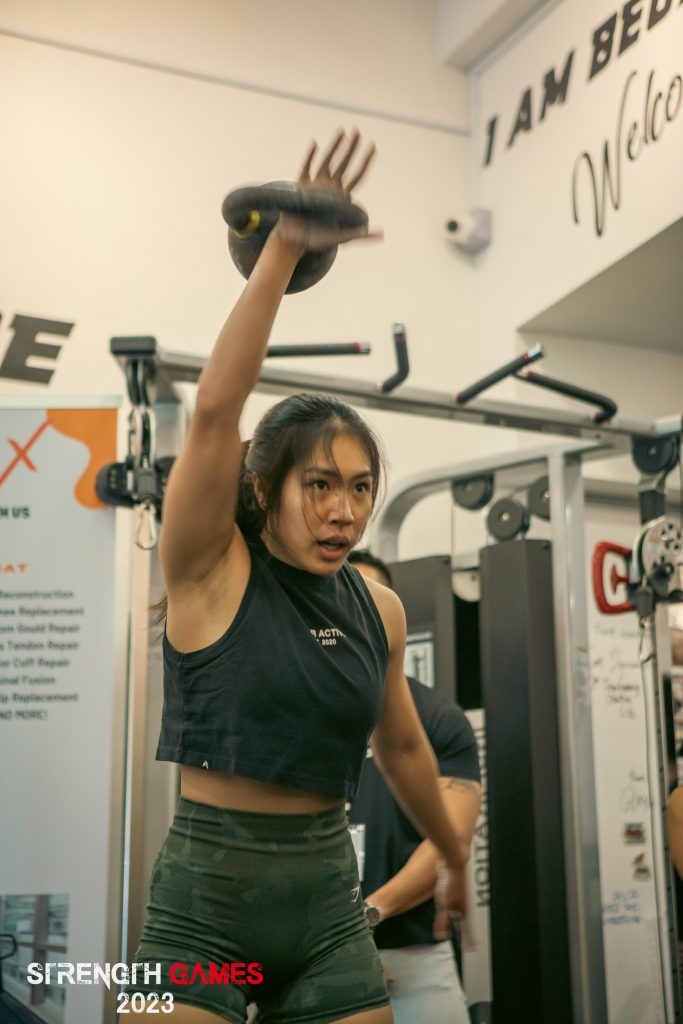 Alyssa was a competitive gymnast at the top of her game in regional school competitions before joining Higher Performance. Her journey followed her constant desire to set new goals to challenge her physically. Enter our Strength Games. However, training for the games didn't go as planned. Battling with Covid, facing training gaps due to travel, and finding herself 6kg lighter just six weeks before the competition, Alyssa had to rush to rebuild muscle and regain strength. Despite evaluations falling short of her previous personal bests, her perseverance and determination paid off. Defying all expectations, she secured 2nd place in the Women's Open Category with 18 Pull-Ups and a 90kg deadlift. This achievement feels like the ultimate redemption story, and we're all cheering for this heroic triumph!

ANANT
COMPETING INJURY FREE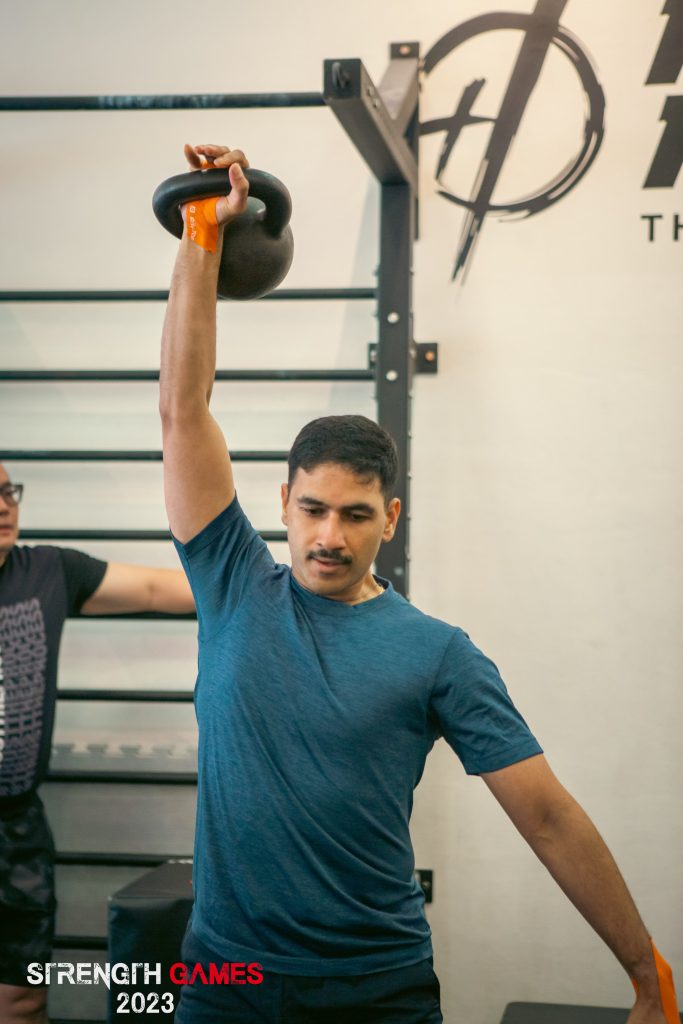 Anant's journey at Higher Performance began with a challenging setback – two fractured knees in 2022. After a determined recovery period, he established a new training routine to build strength and master skills like pull-ups and deadlifts. In 2023, inspired by the Higher Performance community, he decided to join the Strength Games. With unwavering support from his family during 6am training sessions and dietary adjustments, he signed on for the games as a means to gauge his fitness. The best part? Anant not only competed injury-free but also achieved a personal record in his deadlifts and pull ups. This incredible result is a testament to his commitment, recovery efforts, and relentless pursuit of his goals!